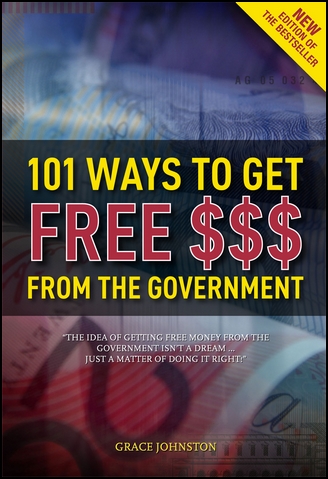 AS SEEN ON TODAY TONIGHT!
New edition of the 2009 best seller!
Up to date with the 2010 Federal Budget (May 2010), this handy little guide will direct you to Government schemes, rebates and programs you may be unaware of. Programs and rebates that can help you make money!
Whether you're young or old, a tradie, labourer, professional, a mum just looking to get back into a part-time job or a retiree needing to get back into the workforce, the economic downturn has left few of us untouched.
And if you're one of the lucky ones whose job is secure, then no doubt you know someone who is struggling to pay the mortgage and put food on the table.
Sales of this book went NUTS last year. NUTS, I say and the publisher struggled to keep up with demand. This year they know better – get your copy today.
NOT CONTENT TO LIVE JUST OFF GOVERNMENT HANDOUTS?
Why not milk the internet as well – here's …
101 Great Websites to Save You $$$
Everyone loves a bargain and the internet is a goldmine when it comes to unearthing little nuggets including hot deals, advice on how to save or make money, comparison tools to find bargains, and freebies that can be extracted from little known websites all but hidden in cyberspace.
The problem is, it requires hours and hours of research, which can be a nuisance. That's where this guide hopefully comes to the rescue and not only saves you time and energy, but also makes life a little easier in saving money . and gives you plenty of ideas to make a few dollars along the way.
Covering Auctions, Travel, Cars and Petrol, Fashion, Household help, Entertainment, Technology, Freebies and more, this is the must have guide to saving money!
From the TodayTonight website:
Government handout secrets
* Reporter: Jonathan Creek ( Broadcast Date: July 13, 2010)
A new book is getting in on the handout act, this time with legal tips on how to get free money from the government.
Author Grace Johnston said there are benefits for families and individuals that you may not be getting, even though you are entitled to them.
"I'm incredibly surprised about what there is out there," she said.
For instance, the popular baby bonus payment is also available to those families who adopt a child under the age of 16.
If you need extra help with child care, your family may be entitled to 50 hours paid for every week, up from the normal period of 24 hours.
Despite trying to shut it down, the Federal Government could pay $4250 in Medicare benefits for dental services over two years, if you have a referral from your doctor.
"The book isn't here to help them rort the system, it's here to help them find something if they happen to be in need," Grace said.
If you are a divorced mature woman, living on your own and not working, you may be eligible to claim a Widow Allowance, even if you are not a widow.
Baby boomers caring for elderly parents permanently could receive an additional Carer Supplement of $600 per parent, per year.
Students do not miss out either. There is plenty of hidden money to help them through those lean years.
Since April this year, some students living away from home have been eligible to receive a $1300 Student Start Up Scholarship or a $4000 Relocation Scholarship.
If you suffer a temporary medical condition and you are a student or self employed, you could receive a sick leave allowance while ill, as long as you have a job to go back to.
The move to digital television means the Federal Government will even pay for a high definition set top box for households in some regional areas.
101 Ways to get free $$$ from the Government
About the Contributor
While still in his twenties, John Purcell opened a second-hand bookshop in Mosman, Sydney, in which he sat for ten years reading, ranting and writing. Since then he has written, under a pseudonym, a series of very successful novels, interviewed hundreds of writers about their work, appeared at writers' festivals, on TV (most bizarrely in comedian Luke McGregor's documentary Luke Warm Sex) and has been featured in prominent newspapers and magazines. ​Now, as the Director of Books at booktopia.com.au, Australia's largest online bookseller, he supports Australian writing in all its forms. He lives in Sydney with his wife, two children, three dogs, five cats, unnumbered gold fish and his overlarge book collection. His novel, The Girl on the Page, will be published by HarperCollins Australia in October, 2018.