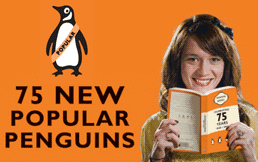 75 new POPULAR PENGUINS are here to intrigue, delight, entertain and inform us.
There are now more than 170 of these timeless books, with their iconic classic orange and white jackets, all at our stunning low prices. You'll never get a better opportunity to build a really good collection of excellent titles – and all of them are books you know will last the distance.
Now the best part…
Penguin Australia has very kindly given us 80 Popular Penguins – worth a whopping $800 – to give away to Booktopia customers. That means that four lucky people will each soon have 20 books ($200 worth) absolutely free. Best of all, the choice of titles is theirs alone. How good is that?
To enter,
Order at least one Popular Penguin
Add twenty Popular Penguins titles to your wish list through your Booktopia account. (If you win, we need to know what to send you).
Answer the following question – Which Popular Penguin title are you most looking forward to reading?
Send your order number and answer to: penguinpromo@booktopia.com.au

Competition ends July 31, 2010. Only orders placed after the 29th June, 2010 till July 31st, 2010 are eligible and your order number must be provided with your answer.

The winners will be announced in the August 2010 Booktopia Buzz.

Click here to return to the Popular Penguins selection.
About the Contributor
While still in his twenties, John Purcell opened a second-hand bookshop in Mosman, Sydney, in which he sat for ten years reading, ranting and writing. Since then he has written, under a pseudonym, a series of very successful novels, interviewed hundreds of writers about their work, appeared at writers' festivals, on TV (most bizarrely in comedian Luke McGregor's documentary Luke Warm Sex) and has been featured in prominent newspapers and magazines. ​Now, as the Director of Books at booktopia.com.au, Australia's largest online bookseller, he supports Australian writing in all its forms. He lives in Sydney with his wife, two children, three dogs, five cats, unnumbered gold fish and his overlarge book collection. His novel, The Girl on the Page, will be published by HarperCollins Australia in October, 2018.