The Booktopia Book Guru asks
Jackie Collins
author of
Poor Little Bitch Girl,
Married Lovers, Drop Dead Beautiful
and a host of other bestselling titles
Ten Terrifying Questions

——————————–
1. To begin with why don't you tell us a little bit about yourself – where were you born? Raised? Schooled?
Born in London. Dropped out of school at fifteen. Followed school with Hollywood – gaining invaluable research, and meeting characters that I still write about today.
2. What did you want to be when you were twelve, eighteen and thirty? And why?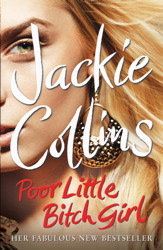 Everybody said you can't be a writer, you dropped out of school, you need to go to college, etc. But I followed my dream and ignored everyone. At twelve I was writing unfinished novels. At eighteen I was doing the same thing. And at thirty I was a published author.
3. What strongly held belief did you have at eighteen that you do not have now?
The beliefs I had at eighteen have stayed with me today. Strive and you will achieve. Work hard at what you love and your passion will shine through.
4. What were three works of art – book, painting, piece of music, etc – you can now say, had a great effect on you and influenced your own development as a writer?
Book – The Great Gatsby by F. Scott Fitzgerald. So mysterious and exciting. The painting – A Bigger Splash by David Hockney. I built my house based on that painting. And music – What's Goin' On by Marvin Gaye. All of the above filled me with inspiration.
5
. Considering the innumerable artistic avenues open to you, why did you choose to write a novel?
I am a born storyteller. One hundred years ago I would be sitting around the campfire saying "Let me tell you a story!"
6. Please tell us about your latest novel…
Poor Little Bitch Girl.Three twenty-something women, one hot, rich guy, two mega movie-stars, a drugs bust and a devastating murder. Poor Little Bitch Girl has it all!
There's Denver Jones, the hotshot attorney working in L.A. and Carolyn Henderson – personal assistant to a powerful and very married Senator in Washington with whom she is having an affair. And then there's Annabelle Maestro – daughter of two movie stars – who has carved out a career for herself in New York as the madame of choice for discerning famous men. The three twenty-something women used to go to high school together in Beverly Hills and Denver and Carolyn have always kept in touch, but Annabelle is out on her own with her cocaine addicted boyfriend Frankie.
Bobby is Frankie's best friend – Bobby Santangelo Stanislopolous, that is, Kennedy-esque son of Lucky Santangelo and deceased Greek shipping billionaire Dimitri Stanislopolous. Now he owns Mood, the hottest club in New York, but back in the day he went to high school with Denver, Carolyn and Annabelle, and hung out with all three of them. Which means that Bobby knows everyone's secrets – and he has some of his own, too. Read an Extract – Click Here
7. What do you hope people take away with them after reading your work?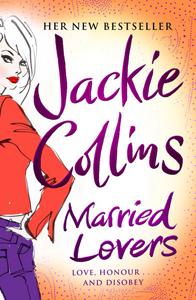 I fulfil my fantasies of what Hollywood and life in the fast lane is all about. Mind candy with hidden truths. And plenty of sly humour!
8. Whom do you most admire in the realm of writing and why?
Charles Dickens. A genius. Harold Robbins who took you to places you never knew you wanted to go. Enid Blyton – the best children's author of all time.
9. Many artists set themselves very ambitious goals. What are yours?
I've written 27 best selling novels. So my plan is to just keep on going!
10. What advice do you give aspiring writers?
Don't talk about it. Do it!!
Jackie, thank you for playing.
Follow Jackie Collins on Twitter – click here…
One for the girls – A Blast from the Past – Jackie interviews George Clooney (circa 1998)
About the Contributor
While still in his twenties, John Purcell opened a second-hand bookshop in Mosman, Sydney, in which he sat for ten years reading, ranting and writing. Since then he has written, under a pseudonym, a series of very successful novels, interviewed hundreds of writers about their work, appeared at writers' festivals, on TV (most bizarrely in comedian Luke McGregor's documentary Luke Warm Sex) and has been featured in prominent newspapers and magazines. ​Now, as the Director of Books at booktopia.com.au, Australia's largest online bookseller, he supports Australian writing in all its forms. He lives in Sydney with his wife, two children, three dogs, five cats, unnumbered gold fish and his overlarge book collection. His novel, The Girl on the Page, will be published by HarperCollins Australia in October, 2018.