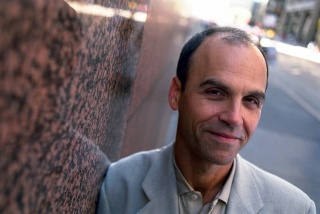 Some people remember their lives by going through the mental catalogue of what music they were listening to at the time. Others by political events, or sporting events. My milestones are littered with the novels that have influenced me and I can tell you that the it book of 1987 was Scott Turow's Presumed Innocent.
Presumed Innocent was The Girl with the Dragon Tattoo of its times. By that,  I mean that everyone read it – from the serious literary reader (who secretly hankered a great whodunit as an escape from the highbrow) to the person who only ever bought their paperbacks at the newsagent.
Presumed Innocent was the great unifier, the great leveler. Turow defined the courtroom drama and in a genre that is crowded now he still, arguably, holds the crown. Of course,  this real life Chicago attorney, novelist , essayist and op-ed  writer has written many a story since then but nothing has had the impact of that seminal book. Nine million copies sold, 45 weeks on the New York Times bestseller list, inspiration for a film. Turow owned the legal thriller genre.
Enter the sequel, Innocent.
Twenty years later and the former district attorney turned accused Rusty Sabich is now aged 60. He sits as a judge in the court where he once prosecuted, the court that finally two decades earlier threw out the charge that he murdered another lawyer, with whom he was having an adulterous affair. Now he finds himself again being stalked by his former accuser Tommy Molto who is itching to prove that he murdered  his wife, found dead in their bed one morning. And Molto, having lost his quarry all those years ago, will be destroyed if he sees Sabich walk free a second time.
Let me say from the start that this is not the sort of book that I normally read, so I don't really know the field. Let me also say that for the first time in my life,  I found myself sneaking in a page or two while sitting in the car at traffic lights. It is that good. Innocent is an absolute rip-snorter of murder mystery. Turow has got the formula right. Just enough of the legal bits to make it about justice, a goodly amount of intrigue to make it about suspense and most importantly, the perfect of psychological insight to demonstrate how the compromises  faced by all four of the main characters hurtle them constantly between the sacred and the profane.
This is no boilerplate legal thriller. It had me up late nights and early mornings. I became obsessed with the motivations, memories  and personalities of the four main characters whose points of view alternate throughout the tale.  Turow writes with clarity, precision and convincing authenticity. And not a Swedish ex-Nazi sadist to be found! Great stuff indeed.
The US hardback of Innocent is available now. Alternatively, pre-order the Australian paperback for delivery early June.
About the Contributor