Hands up who has started a small business? And hands up who is still in business five years later?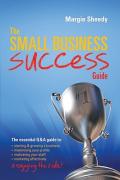 So many of us have been there, and so many of us have faltered. A good idea isn't enough. Nor is a forgiving financial backer, or truckload of enthusiasm.  Margie Sheedy has the answers however, in her unique q&a format Small Business Success Guide.
We've got some great content up for the book. For a start, we have a sampler so you can read about 35 pages from this  handy business primer. She's also done a podcast especially for Booktopia customers. In it, she talks about three crucial aspects of achieving the results you want – namely identifying your goals for the next 12 months, valuing your time, and knowing what your customers want.
Think of Margie as your own personal consultant – at a fraction of the cost. Go on take the plunge. Just don't get started in that new venture without her.
About the Contributor