Australia's Largest Online Bookshop is Celebrating it's
6th Birthday this Week!
Six short years ago when creative businessman, Tony Nash, decided he wanted to open an online bookshop, his brother and business partner, Simon Nash, set him this challenge – 'You can start it but you have to get it up and running on a $10 a day budget… AND you have to work on it outside of normal working hours.'
You see Tony and Simon and their brother-in-law, Steven Traurig, were already running one of Australia's leading internet marketing consultancies.
Booktopia was successful. Very successful. Soon Tony needed his brother and brother-in-law's help and had to convince other members of their family to join them as well. They shut down the marketing business, hired more staff and soon the Booktopia engines were roaring.
Every day brought more challenges. There were teething problems in every aspect of the business. And as neither brother had much experience in the book trade, everything had to be learnt from scratch. But they were willing to work hard and were up for the challenge. In fact, they revelled in it.
The secret of their initial success?
They were willing to obtain books other book shops  thought were too difficult to obtain.
More and more publishers opened their doors to Booktopia – publishers great and small – and soon Booktopia's website could boast of listing 1 million books!

Then Toni Whitmont jumped on board and launched Booktopia's monthly newsletter – Booktopia BUZZ – which highlighted the best books of the month and prophesied, with great accuracy, the best books of following months. The BUZZ soon became the industry standard, helping many readers navigate the vast shelves of modern publishing with confidence. (Soon Booktopia BUZZ soon spawned the Romance BUZZ, SciFi & Fantasy Buzz, Zero to Five Buzz, Six to Twelve Buzz, Food & Drink Buzz and Craft Buzz, each with their own specialist editors.)
This was the tipping point for Booktopia.
Booktopia seemed to come upon readers like a lightning bolt, for suddenly everyone seemed to be talking about ordering books online from Booktopia or were telling friends to buy online with Booktopia.
Word was out – Pssst… Booktopia is the place for the best books at bargain prices. Pass it on…

Booktopia had single-handedly energised the online book industry.
But the biggest changes at Booktopia have come in the last twelve months.
In 2009 Booktopia moved to their new home – an enormous, modern warehouse in Lane Cove West, Sydney.
Booktopia soon had an army of helpers and a new streamlined systems for handling the ever increasing number of orders.
More orders meant more leverage in the market and more leverage meant further discounts for Booktopia's customers.
More also means faster. Booktopia ships books all over the world and can demand bulk rates and faster service from shipping companies and book suppliers. The bigger Booktopia becomes the sooner Booktopia's customers can expect to receive their books.
Tens of thousands of books pass through Booktopia's modernised warehouse to be packed in the best quality packaging to ensure Booktopia's customers receive their books in perfect condition, every time.
And Booktopia's grand new warehouse allows Booktopia to carry more stock, too.
All in all, Booktopia's 6th Birthday is not only a celebration of the past six years, of where Booktopia has come from, it is a celebration of Booktopia today, of where Booktopia is going.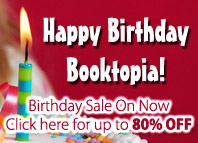 The best qualities of Booktopia's past have been retained but Booktopia has undergone so many improvements in the last year that it feels like a better, brighter, more confident, more competitive company and wants to be judged from this moment.
Booktopia has come of age.

About the Contributor
While still in his twenties, John Purcell opened a second-hand bookshop in Mosman, Sydney, in which he sat for ten years reading, ranting and writing. Since then he has written, under a pseudonym, a series of very successful novels, interviewed hundreds of writers about their work, appeared at writers' festivals, on TV (most bizarrely in comedian Luke McGregor's documentary Luke Warm Sex) and has been featured in prominent newspapers and magazines. ​Now, as the Director of Books at booktopia.com.au, Australia's largest online bookseller, he supports Australian writing in all its forms. He lives in Sydney with his wife, two children, three dogs, five cats, unnumbered gold fish and his overlarge book collection. His novel, The Girl on the Page, will be published by HarperCollins Australia in October, 2018.