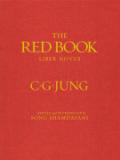 There was an audible gasp in the office a couple of weeks ago when The Red Book was brought in for us to have a look at.
The Red Book is simply stunning. It is an illuminated volume that Carl Jung (yes, that Carl Jung)  created by hand between 1914 and 1930, through which he developed his principal theories. This is an enormous red cloth bound facsimile  of his previously unpublished work, full of his calligraphy and illustrations. The second half of the book is translated into English and annotated. This looks like a medieval manuscript, embossed in gold and the most precious of colours.
Swiss scholar Carl Jung died an old man in 1961, leaving behind him a hugely influential body of work encompassing psychology, dreams, art, religion, mythology and philosophy. His approach to the psyche was through other areas – alchemy, astrology, literature and sociology. He fathered the collective unconscious, analytical psychology and synchronicity.
Although Jung considered his private writings and drawings seminal in the formation of his theories, they have been unpublished until now.
The Red Book will not be available until October but I've just put it up on the site this evening. It is a must not only for anyone with an interest in modern psychology, but also for lovers of history, art and the development of ideas.
Very limited numbers of the magnificent book are being produced and we have secured 12 of them. There is enormous interest in this work of art and imagination.
Click here to pre-order for a mid-October release. Please note that when these are sold, there will be no more.
About the Contributor