The new look Matthew Reilly's have just arrived in the warehouse and they look stunning. The Platinum Collection – Scarecrow, Ice Station, Area 7, Contest, Temple, Seven Ancient Wonders and Six Sacred Stones – are all hardback, black glossy jackets with embossed silver writing and are a must for collectors.
We've got three together in a pack – Ice Station, Area 7 and Scarecrow for $62.95 (rrp $84). they make a stunning gift.
Alternatively, you can buy any of them separately for $22.39 (rrp $27.99) which is as cheap a chips for a hardback.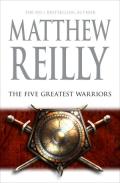 And of course, Reilly fans will all be hanging out for Five Greatest Warriors which will be out in early October.
Pre-orders are flooding in!
About the Contributor