John Grisham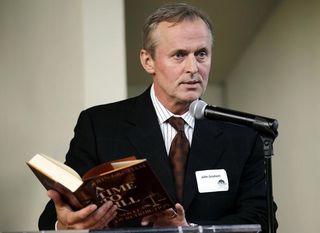 One day at the Dessoto County courthouse, John Grisham overheard the harrowing testimony of a twelve-year-old rape victim and was inspired to start a novel exploring what would have happened if the girl's father had murdered her assailants. Getting up at 5 a.m. every day to get in several hours of writing time before heading off to work, Grisham spent three years on A Time to Kill and finished it in 1987. Initially rejected by many publishers, it was eventually bought by Wynwood press, who gave it a modest 5,000 copy printing and published it in June 1988.

That might have put an end to Grisham's hobby. However, he had already begun his next book, and it would quickly turn that hobby into a new full-time career - and spark one of publishing's greatest success stories. The day after Grisham completed A Time to Kill, he began work on another novel, the story of a hotshot young attorney lured to an apparently perfect law firm that was not what it appeared. When he sold the film rights to The Firm to Paramount Pictures for $600,000, Grisham suddenly became a hot property among publishers, and book rights were bought by Doubleday. Spending 47 weeks on The New York Times bestseller list, The Firm became the bestselling novel of 1991.

Since first publishing A Time to Kill in 1988, Grisham has written one novel a year and all of them have become international bestsellers. There are currently over 225 million John Grisham books in print worldwide, which have been translated into 29 languages. Nine of his novels have been turned into films (The Firm, The Pelican Brief, The Client, A Time to Kill, The Rainmaker, The Chamber, A Painted House, The Runaway Jury, and Skipping Christmas), as was an original screenplay, The Gingerbread Man. The Innocent Man (2006) marked his first foray into non-fiction.