Jeff Smith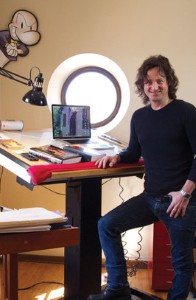 Jeff Smith, born February 27, 1960, is an American cartoonist best known as the creator of the self-published comic book series Bone. Jeff was born in McKees Rocks, Pennsylvania and grew up in Columbus, Ohio.

He learned about cartooning from comic strips, comic books, and animated TV shows. Smith has cited Charles M. Schulz's Peanuts as a very early influence on his understanding of comics. He has also named Walt Kelly's Pogo, which he discovered at the age of nine when a classmate brought a collection of the comics to school, as his "biggest influence in writing comics". Smith began to create comics with the "Bone" characters as early as 1970, when he was about 10 years old.

For his work on Bone, Smith has received numerous awards, among them ten Eisner Awards and eleven Harvey Awards. In 1995 and 1996 he won the National Cartoonists Society's award for Comic Books.

His most recent series, RASL, focused on an art thief who hops through dimensional barriers, hiding out on various parallel worlds.