Elizabeth Knox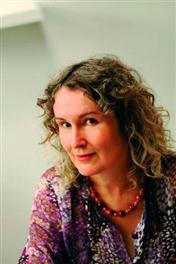 Elizabeth Knox was born in Wellington, New Zealand and currently resides in Kelburn, Wellington. Her best known work is The Vintner's Luck, which won the Deutz Medal for Fiction, Readers' Choice and Booksellers' Choice awards at the 1999 Montana New Zealand Book Awards, was translated into French, German, Norwegian, Spanish, Dutch and Hebrew, and is being made into a film by Niki Caro.

It was also awarded the inaugural Tasmania Pacific Region Prize. More recently she has published the Dreamhunter Duet, a pair of YA/Crossover fantasy novels set in an alternate New Zealand-like republic, where dreamhunters explore 'The Place' in order to catch dreams which they then share with the paying public in large theatre-like dream palaces. The first book of the duet, Dreamhunter, won the Esther Glen Award and was an ALA Best Book for 2006. Its sequel, Dreamquake, was a Michael L. Printz Award honour book for 2008, and an ALA best book for the same year.

Elizabeth Knox is married to Fergus Barrowman, a publisher at Victoria University Press. Her son, Jack Barrowman, is a student at Wellington College.