Christos Tsiolkas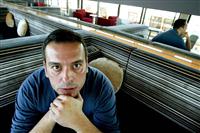 Christos Tsiolkas was born in Melbourne in 1965. Loaded, his first novel, was published in 1995 and later made into the award-winning film Head On. In 1996 he collaborated with Sasha Soldatow on the dialogue Jump Cuts. His novel The Jesus Man was published in 1999.

His critically acclaimed novel Dead Europe was published in 2005 and in 2008 he reached bestselling status with the bold The Slap which won the Commonwealth Writers Prize and was shortlisted for the Miles Franklin Award.

He is also the author of several plays including Who's Afraid of the Working Class? and Dead Caucasians and Non Parlo di Salo, co-written with Spiro Economopoulos.