Anita Heiss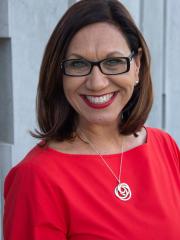 We are very fortunate at Booktopia to have interviewed Anita twice - read Anita's answers to our Ten Terrifying Questions - here and her answers to our Five Facetious Questions - here

Dr Anita Heiss is a member of the Wiradjuri nation of central New South Wales and is one of Australia's most prolific and well-known authors of Indigenous literature.

Her published works include the historical novel Who Am I? The Diary of Mary Talence, Sydney 1937, the poetry collection Token Koori, satirical social commentary Sacred Cows, non-fiction text Dhuuluu-Yala (To Talk Straight) – Publishing Aboriginal Literature, and a children's book entitled Me and My Mum. Anita has also edited editions of Southerly, Five Bells and the anthology Life in Gadigal Country.

In 2008, Anita co-edited with Peter Minter. The Macquarie PEN Anthology of Aboriginal Literature, which showcases 81 different Aboriginal writers, playwrights, storytellers, poets, songwriters and leaders.

In 2007 Anita released three titles: Not Meeting Mr Right (Random House) for which she won the Deadly Award for Outstanding Contribution to Literature. Her poetry collection also released this year I'm not racist, but… (Salt Publishing) won the Scanlon Prize for Indigenous Poetry and the kids novel Yirra and her deadly dog Demon (ABC Books), was launched at the 2007 Sydney Writers Festival by Her Excellency Marie Bashir, Governor of NSW.

Her most recent title is Avoiding Mr Right (Random House, 2008).

Anita has performed her works nationally (Sydney Writers' Festival, Perth International Arts Festival, Adelaide Writers' Week, Byron Bay Writers' Festival, Message Sticks, Brisbane Writers Festival, Somerset Festival of Literature, Watermark, and Wordstorm, among others) and internationally in Spain, Austria, the USA, Canada, Fiji, Japan, New Zealand, China, Paris, the UK, Tahiti and New Caledonia. She has also been published widely in journals, anthologies and on-line.

Anita was Communications Adviser for the Aboriginal and Torres Strait Islander Arts Board (2001-2003), was a member of the Australian Society of Authors (ASA) Committee of Management from 1998-2004 and was Deputy Director of Warawara Department of Indigenous Studies at Macquarie University from 2005-2006.

In 2003 in recognition of her literary achievements Anita was awarded the ASA Medal for Under 35s for her contribution to Australian community and public life. In 2004 Anita was awarded the NSW Indigenous Arts Fellowship and was listed in The Bulletin magazine's "Smart 100". She was also nominated for a 2004 Deadly Award for Outstanding Achievement in Literature.

In 2004, wrote and directed her first short-film "Checkerboard Love" as part of the Lester Bostock mentorship program through Metro Screen, Sydney. She was also writer in residence at Macquarie University.

Anita has made guest appearances on the Einstein Factor, Message Stick, Vulture, Critical Mass, A Difference of Opinion, The Catch up and 9am with David and Kim.

Anita is currently the Coordinator of the AustLit - Black Words research community.