A S Byatt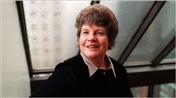 A.S. Byatt (Antonia S. Byatt) is internationally known for her novels and short stories. Her novels include the Booker Prize-winning Possession, The Biographer's Tale and the quartet, The Virgin in the Garden, Still Life, Babel Tower and A Whistling Woman, and her highly acclaimed collections of short stories include Sugar and Other Stories, The Matisse Stories, The Djinn in the Nightingale's Eye, Elementals and her most recent book Little Black Book of Stories. A distinguished critic as well as a writer of fiction, A S Byatt was appointed CBE in 1990 and DBE in 1999.

Daughter of His Honour John Frederick Drabble, QC and late Kathleen Marie Bloor

Married
1st, 1959, Ian Charles Rayner Byatt (Sir I. C. R. Byatt) marriage dissolved. 1969; one daughter (one son deceased)
2nd, 1969, Peter John Duffy; two daughters.

Education
Sheffield High School; The Mount School, York; Newnham College, Cambridge (BA Hons; Hon. Fellow 1999); Bryn Mawr College, Philadelphia, USA; Somerville College, Oxford.